Over the last couple of years, the real estate fix and flip strategy have become increasingly popular. As of the first quarter of 2022, 9.6% of all homes sold were flipped. This is a remarkable 68.2% increase from the number of flipped homes sold in the whole of 2017.
The fix and flip market is currently booming, and there is no doubt that it is an opportunity no investor should miss. Even in unfavorable market conditions, this market continues to record high-profit numbers. These numbers, coupled with the enduring strength and stability of the fix and flip market, make it a lucrative investment. 
If you are interested in buying properties to fix and flip and don't have the cash, you can always finance your real estate endeavor through private money lending. The most common types of private money lending are from private lenders and hard money lenders.
Let's see how to get private money lending for fix and flip real estate investing.


Private Money Lending with Private Lenders and Hard Money Lenders


Gone are the days when traditional bank loans were the only source of financing for many real estate investors. In today's world, private money lending plays a vital role in the real estate industry, and through this, several investments are funded.
Private money lending is the issuance of short-term loans that are secured by trust deeds and notes to fund a real estate investment. This lending is carried out by non-institutional lenders, usually private individuals or organizations. These non-institutional lenders include:
Private Lenders

Private lenders typically lend money to real estate investors from their purses without charging additional fees, and they do this without following the conventional loan qualification guidelines and procedures. Private money lenders usually have lower interest rates and more flexible lending terms than hard money lenders, making them a better option. 
Hard Money Lenders


Hard money lenders lend money to real estate investors from purses funded by a group of investors, and they charge points for each loan. Like traditional banks, they also enforce strict administrative regulations and restrictions regarding the condition of a property.

Problems Surrounding Lending from Hard Money Lenders
Although private money lending is a more desirable funding source amongst fix and flip investors, it also comes with problems, especially when borrowing from hard money lenders. Here are a few: 
High-Interest Rates

Hard money lenders are aware that even though fix and flip real estate is a solid investment, there is a considerable amount of financial risk involved. In an effort to reduce the effect this risk might have on them, they typically charge higher interest rates and fees compared to traditional bank loans. 
The interest on a hard money loan can range anywhere from 7% to 15%, depending on the lender.
Mode of Evaluation

Rather than using the conventional loan requirements and credit score, a hard money lender would decide whether to give out a loan or not by evaluating the experience of the investor. Most of the time, first-time borrowers don't get loans because they lack experience, and even when they do, they face higher interest rates.
Short Pay-back Periods

Since private money loans are short-term, the time borrowers have to pay back their loans is shorter than traditional bank loans. This shorter payment schedule and high-interest rates can put a lot of pressure on an investor, especially if renovations take too long or the flipped property isn't sold in time.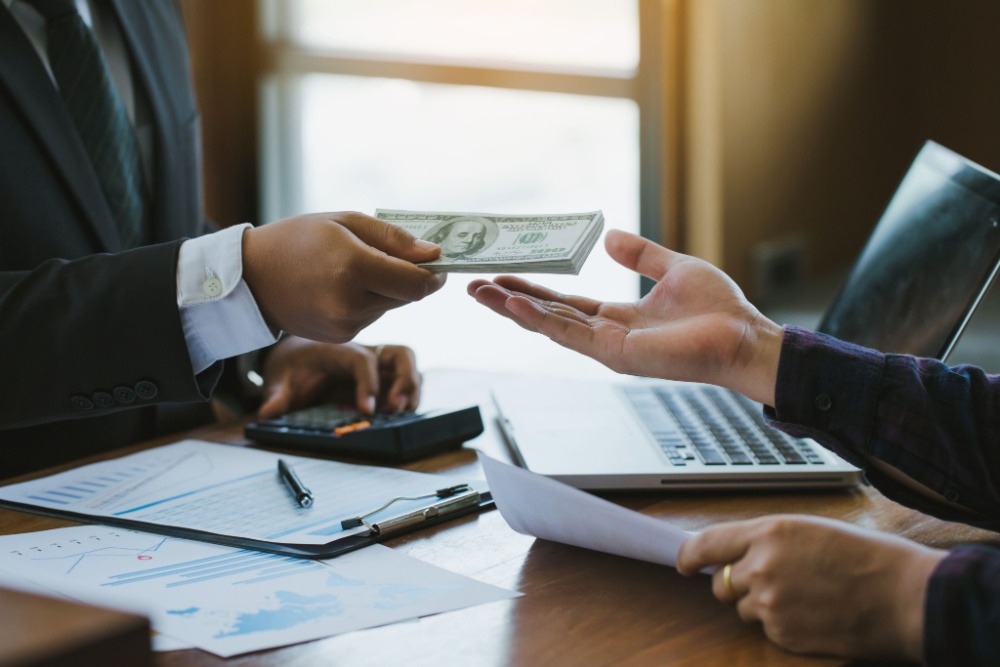 Getting Private Money Lending for Fix and Flip Real Estate Investing from
Fort Knox Capital

Any investor who needs private money loans for fix and flip investing would be wrong not to consider making use of a private lender such as Fort Knox Capital. We specialize in private money lending to residential investors and commercial property owners.
When borrowing from Fort Knox Capital, you can be assured of getting 100% construction financing for your fix and flip investments, unlike anywhere else. Even more, their private money loans can fund up to 70% of your property's After Repair Value (ARV). This includes property purchase, loan, and renovation costs.
At Fort Knox Capital, the terms are more satisfying. They provide typically difficult loans, such as multifamily loans and residential bridge loans, allowing investors to maximize cash requirements despite the present purchase and interest rate hike.
So, you don't have to worry about high-interest rates, and investors enjoy the utmost flexibility on loan terms to help improve your Return On Investment (ROI).
Conclusion

Not having enough cash shouldn't be the reason not to actualize your fix and flip real estate dreams. As important as finding a way to get private money loans for your investments is, it is equally important to get loans like these rental property loans or fix and flip loans from the right place. That is why we recommend Fort Knox Capital for great and easiest private money loan offers.